Trustees and President's Position:
USD's President Prioritizes DEI/CSJ
People make themselves known by their actions. James Harris became USD's president in 2015. Since then, Pres. Harris has spearheaded DEI efforts in all areas of university life. Every policy recommended by the Anti-Racism Task Force, every policy in the Horizon Plan, every hire to promote DEI at USD is his work. When faculty training is made mandatory or when faculty evaluations are shaped by anti-bias, supposedly anti-racist policies, Pres. Harris sanctions it.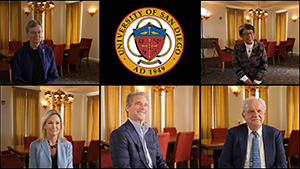 His apparent attempt is the culture takeover of this university by CSJ. His major accomplishments relate to "assessing and further developing the university's diverse and inclusive community, expanding sustainability initiatives" and so on. As Pres. Harris leads the Board of Trustees, the upper-level administration, and the strategic planning processes, his political pronouncements reflect his priorities and his ideological bent. His hiring and vision follow directly from his politics.
Pres. Harris is overly political and partisan with regard to current events and the university's revised CSJ mission. Consider just a few recent examples. After Donald Trump was elected in 2016, he issued a statement on the election condemning some voters. "Some people across our nation," Pres. Harris wrote, "have found it difficult to channel their 'better angels' due to the divisive nature of the campaign."[1] He also issued a statement after the episode at Charlottesville[2] and after January 6,[3] and in each case took the most conventional line of the media narrative. Upon the verdict against Derek Chauvin, he demanded that USD as "a contemporary Catholic university" keep from complacency and recognize "the ongoing reality of the systemic racism that continues to plague our country" and recognize that "the accountability [the verdict] represents does not equal the justice that Mr. Floyd deserved."[4]
In addition, on July 20, 2020, Pres. Harris caved to demands to remove a statue to St. Junipero Serra from members of the American Indian Student Organization. He praised "the good work we have done to decolonize the campus and make the university more welcoming to our native students," though no input from other students was apparently received.[5]
He wrote an article in the USA Today editorializing about prioritizing international students and illegal immigrants. His article closed with what he believes should be the priorities for higher education policy: "The administration should create a bold new higher education agenda guided by three broad principles: attracting top foreign scholars, opening opportunities for employment, and creating a pathway to citizenship for the brightest and the best in the world."[6]
In a video address by Donald Knauss, the Chairman of the Board of Trustees, he states that the first goal of the Board was the achievement of student success. This would presumably mean that meritocracy and development of critical thinking was paramount. With the increased push for CSJ/DEI, this goal is at risk.
Conclusion: Pres. Harris has shown himself to adopt nearly every aspect of the American Left's narrative about every issue of public importance. He adapts the Catholic tradition to comport with the atheist, anti-family Black Lives Matter narrative, and believes that USD and America itself is irredeemably racist.
[1] https://www.sandiego.edu/president/writings-addresses/presidential-election.php
[2] https://www.sandiego.edu/president/writings-addresses/2017/charlottesville.php
[3] https://blue.sandiego.edu/president/2021/unity-and-peace-2021-01-06.html
[4] https://blue.sandiego.edu/president/2021/verdict-minneapolis-2021-04-21.html
[5] https://www.sandiego.edu/senate/documents/decc_aiso_response_pres_harris.pdf
[6] https://www.usatoday.com/story/opinion/2017/03/17/welcome-foreign-scientists-to-u-s-campuses-column/99219986/